Today we left the Tetons behind and drove north to Yellowstone. I mean, after one last trip to the lake with coffee. The morning was beautiful and we finally had the weather we'd been hoping for.
It was a relatively quick drive, and the SW corner of Yellowstone was not a place I was all that familiar with. But when we arrived at the entrance, we clearly weren't alone in our excitement. There was a huge line of vehicles waiting for their turn to get a picture with the sign. We opted out, knowing we'd be in and out of the park at least a few times.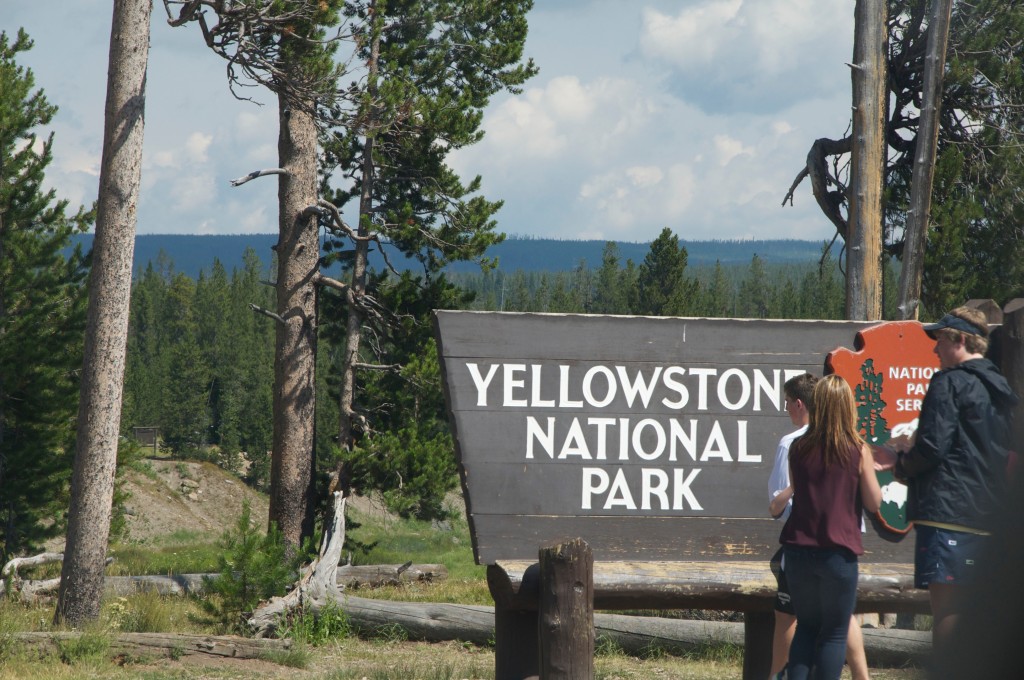 We stopped briefly at Moose Falls to see the falls. We were all excited, and sitting in the car was getting old.

It didn't take very long to reach Bridge Bay campground, and after winding our way through the massive collection of loops, we arrived at our very steep spot and spent quite a while trying to park the camper in a way that wasn't too scary. None of us were the happiest about the angle, but I guess we're all here so it held it's spot. Note to self – get more wood blocks for balancing, leveling, etc.
After situating our camp, we headed over to Fishing Bridge RV park, where Kathy and Dave were camping. The Fishing Bridge campground I grew up with had closed years ago because of bear problems, and the newer namesake RV park only allowed hard-sided campers due to the risk. (of note, a few weeks after we got home, a hiker was killed by a bear not far from the RV park)
After settling in, we walked over to the Fishing Bridge general store, the nature center, and took a look at the lake. The nature center was a lot of fun for all of us, and the kids got a chance to see what they were going to be looking for over the next week. I got excited looking at the lake bathymetry model and the big lake trout mounted on the walls. We meandered back after picking up some trinkets and local beers and had dinner at the big camper. We played amongst the fallen lodgepole pines.
After dinner, the four of us decided to drive up the Hayden Valley to see if we could see some wildlife as sunset approached. We first stopped at a roadside stink pot so the girls could truly experience Yellowstone. Peeeeee-yew.
We lucked out because a bear had just killed a bison and had been feeding on the carcass for the last day. Traffic made it clear that we were in luck, and we managed to park and join a gaggle of people who had been cordoned off a safe distance away from the bison pile. As luck would have it, we managed to see the mom and the two cubs that were with her. They could be challenging to see in the sage, but we got a positive sighting, along with a herd of bison, before heading back to camp. What a thrill! Less than a day in the park and we'd already seen a Grizzly.
Of note. We did not roll away that night. So apparently our chocks, blocks, and leveling legs all held.
Oh, and how freakin' amazing is the Hayden Valley? I could die!